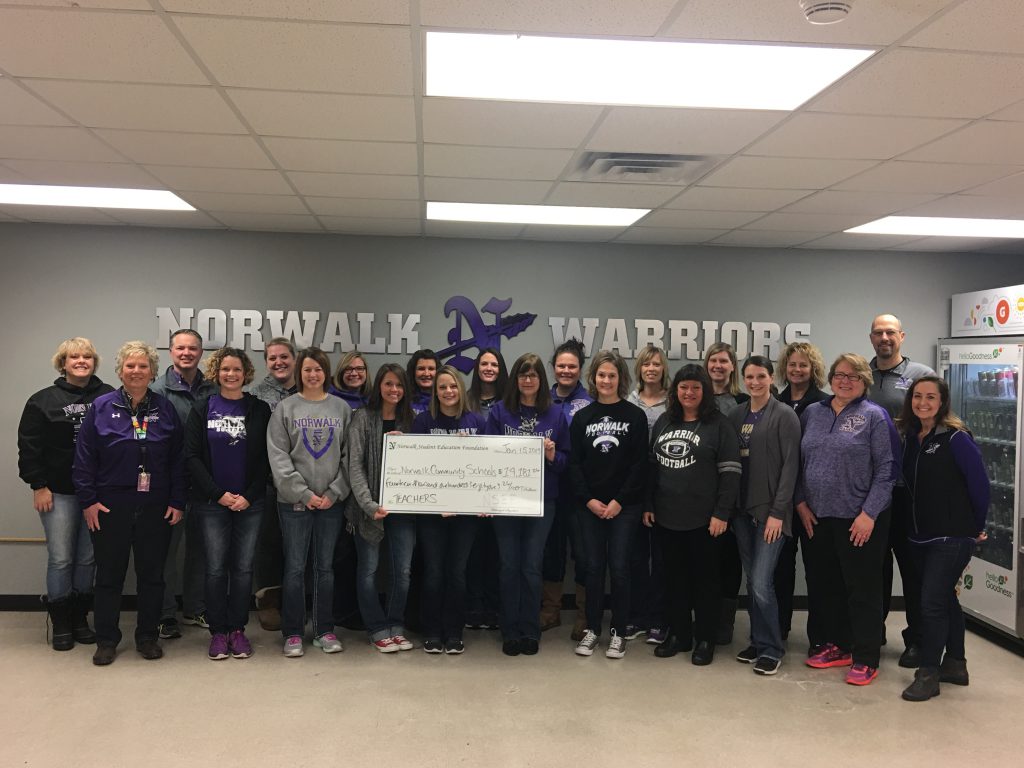 The Norwalk Student Education Foundation just awarded over $14,000 to 28 teachers in the Norwalk School District. Each of these teachers submitted a wish list item they thought would benefit their students or the district as a whole.
NSEF was able to provide funding for the following wish list items:
New set furnishings for the High School drama department
Scholastic magazine subscription for one year to Eastview classroom
Brainpop Jr magazine subscription for one year to Lakewood classroom
Multiple iPad requests for various classrooms to benefit several age levels
Roller desk chairs for Middle School classroom
Classroom supplies (markers, pens, notecards, etc) for Middle School classroom
Alternative seating options for Lakewood classroom
Books to begin building a professional library for Middle School staff
Water bottles for all incoming third grade students
Graphing calculators for High School math class
Exercise balls for alternative seating in Lakewood classroom
Lego sets to promote STEM thinking and creative outlet for elementary students
Photography Light Studio / GoPro for 9th – 12th grade class
IMAX show for Lakewood field trip to Science Center
New playground balls for all grade levels
Classroom set of Scholastic Action Magazine for Eastview classroom
Wireless microphone for Lakewood classroom
Two tri-pods for Lakewood classroom camera
Updated tabletop items for the HS Warrior Café
Quality color printer for HS students to present portfolios to clients and for post-graduation needs
Osmo games to improve coding skills
High-quality non-fiction mentor text sets for cross-curricular units
Middle School teacher to attend a tech conference
Classroom set of Scholastic News issues to share with partner teacher in Lakewood classroom
Professional books to add to teacher library
First Team Challenge Robotics Club startup at High School level
As you can see, the foundation was able to fulfill a variety of requests impacting countless students and subject matter.
The Norwalk Student Education Foundation relies on donations from our supporters so that we can in turn give back to the teachers and students of the Norwalk community school district. Your contributions to the foundation allow our district to reach beyond budget limitations and provide further educational opportunities for our students.
The Norwalk Student Education Foundation and Norwalk Community School District would like to extend our thanks once more to our donors and advocates. We appreciate your continued support!
If you are interested in learning more about our foundation or your donation options, please contact us today!