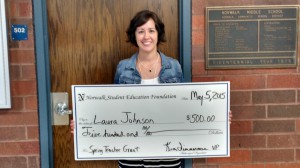 Norwalk Student Education Foundation is proud to present a check for $500 to  Laura Johnson RN, BSN, School Nurse at Norwalk Middle School.
Ms. Johnson applied for grant money through NSEF's biannual teacher grant program.
She will use the money to complete the purchase of a water bottle refill station to be installed at the Middle School.  The refill station will allow fresh water to be available from a sanitary source for students and staff.  This water bottle refill station supports wellness in the school.